Balthazars
The Brussels Furniture Fair awards
Every year, the Balthazar Awards are presented at the Brussels Furniture Fair. Exhibitors can enter their creation and/or collection in a variety of categories.
The four winners receive a certificate, a giant Balthazar of champagne and a handsome press article.
Interested exhibitors can submit their entries by 15 October.
The Balthazars 2017 award ceremony will take place on Tuesday 7 November at 6.30 pm in the Square bar in hall 3. An unmissable networking moment!
6.30 pm on Tuesday 7 November, in the 'Square' bar in Hall 3

Best of Belgium
for the best Belgian product/collection

Innovation
for the most innovative product/collection

Country today
for country living

Ecology
for the most environmentally friendly product/collection
Balthazar winners in 2016
the winners and laureates have been chosen

Layers by Joli, design Sylvain Willenz
Best Of Belgium
An all-in concept featuring tables, chairs and lighting. The unifying theme: the multi-layered, thus flexible structure. Playing with light, colours and materials. The latest option is 'wood on glass' as a tabletop.
Laureats: Hans Christian by Magnitude, design Studio|Nedda / Respiro by Kreamat, design Stefan Schöning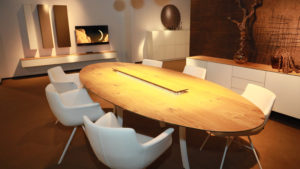 Play & Store by Lifetime Kidsrooms
Most Trendy
An all-round, compact solution. Tables and benches can be swung out from the cupboard. Can be used anywhere. Beneath a high sleeper, in the living room. Finished playing? The tables and benches can be neatly swung back into the cupboard.
Laureats: Camu by Moome, design Roel Vandebeek/Mokumuku by Bullfrog, model Franz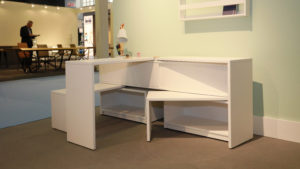 Brooklyn by Karel Mintjens
Country today
An intriguing bi-colour, dual material mix: wafer-thin, black lacquered steel is combined with robust character oak (veneer), and finished in an ecologically responsible way with 100% natural Silk wood stains.
Laureats: Mobitec – Lindsay/Kluskens – the collection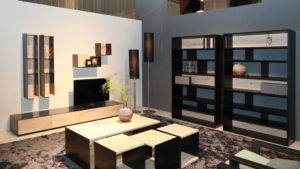 Finesse by Veldeman Bedding
Innovation
Smart technology in a state-of-the-art design. The open base construction creates a spacious, tidy feel. Individual comfort and a feeling of wellness have been optimised, with new features having a medical grounding.
Laureats: Frames by Moome, design Gerard de Hoop/Tatu by Devina Nais